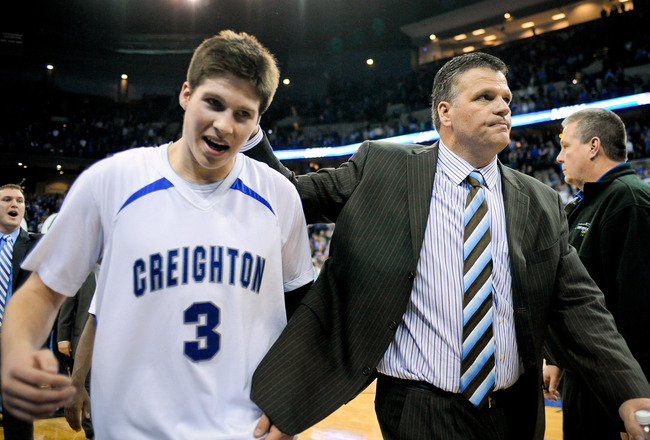 As the nation's bubble teams let out a sigh of relief, offensive powerhouse Creighton secured an automatic bid for the NCAA tournament (although they would have been in anyways) by beating an Illinois St. team that would just not go away.
The run started against the Drake Bulldogs. Drake was determined to upset Creighton. They never went away, but came up short in the end despite the fact that they had nearly as many players in double figures (4) as turnovers (6). Doug McDermott had a double double for the Blue Jays with 26 and 10 while Antoine Young chipped in with 16. It was an impressive effort for Creighton because the Bulldogs are not pushovers by any means.
Next up was the Evansville Aces, one of the only teams to beat Creighton this season, and one who almost beat them twice (lost in overtime by one). Creighton got its revenge by having a uniquely dominant game. While McDermott was effective, he only took four shots the entire game. The hero in this one was Gregory Enchenique, the center who had 20 points, nine rebounds, and three blocks. The Blue Jays also outrebounded Evansville by a stunning margin (39-15).
Creighton dodged a bullet by not having to face Wichita St. in the finals, but they certainly got a fight from the Redbirds of Illinois St. Once again, Creighton struggled to force turnovers, as the Redbirds played with a poise that they haven't played with all year. At the end of the game, they were able to send it into overtime as they went shot for shot with the Blue Jays. However, in overtime, Creighton was too much. The Blue Jays pulled out a hard fought win and survived a late three point frenzy by Illinois St. McDermott came up big in a big game with 33 points and Grant Gibbs, known for his defense, had 20.
The Blue Jays have potential in the NCAA tournament because of their offense. McDermott is one of the best players in the country, and with Young and Enchenique as the second and third options, Creighton is one of the best offensive teams in to country, not to mention they own the nation's top field goal percentage. However, Creighton's defense is their weakness. Echenique and Gibbs are both great individual defenders, but the Blue Jays don't have a very good team defense. This was evident when they got walloped by Wichita St. at the end of their three game losing streak earlier this season. Creighton has the ability to score with the best in the country, and a player like McDermott could come up big in the big dance, but the fact that they rely so much on McDermott and that their defense isn't good, they could really struggle against a good defensive team and possibly get upset by a hot underdog. Creighton should get a #6 seed, although they could get a #5 seed if everything falls into place.